Heart Strings 38-week term for VIOLIN, August 14, 2017 – June 1, 2018
WEEKS OFF: 1)Thanksgiving, 2) Christmas, 3) New Years, 4) Spring Break
meeting at First Christian Church, 306 W. Monroe, Carbondale
and at Marion Antique Mall, 503 N. Madison, Marion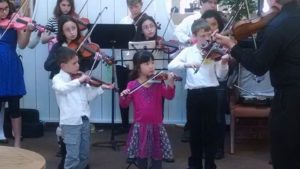 Payment options: (A $25 ADMINISTRATIVE FEE IS ADDED TO THE VIOLIN TUITION)
A) single payment: 10% discount is offered for single full-term payment,
B) monthly payments: pre-payment + 10 monthly payments due, August thru May :
Pre-payment is required before the term begins, or with 1st payment. Monthly payments are due by the 15th of each month. The prepayment is a portion of the total for the 38-week term.  It is non-refundable and demonstrates that you are committed to the entire term. For those who begin lessons mid-term, tuition is prorated, and pre-payment is based on the new total.
Absence for illness, conflicts, etc. will be made up as near as possible to the scheduled lesson. Lessons are usually not canceled when students are off school for weather or minor breaks (Labor Day, Memorial Day, Presidents Day…) Within the 38-week term, you should have all 38 lessons. Be sure to ask for your make-up lessons. Rates are as follows:
PRE-VIOLIN/bowed psaltery (age 3-5) – 30-min private lesson – 10 weeks = $200
VIOLIN GROUP CLASS only (with other private teacher) – 30 weeks = $180
'Progressive' Group Class Saturdays 9:00 – 12:30, included in violin tuition, is for review & refining.
Students play together and 'manipulate' pieces learned in private lessons.
VIOLIN LESSON RATES INCLUDING SATURDAY GROUP CLASS:
30 min lesson -$28 per week -38 weeks =$1064 ($139 [pre-payment+adm.fee] + $95/mo Aug-May
45 min lesson-$38 per week -38 weeks =$1444 ($169 [pre-payment+adm.fee] + $130/mo Aug-May
60 min lesson -$48 per week-38 weeks = $1824 ($249[pre-payment+adm.fee] + $160/mo Aug-May
TOTAL tuition minus [pre-payment + $25 admin. Fee] = 10 monthly payments.
FUNDAMENTALS of CLASSICAL GUITAR class – 18 weeks = $110
MUSIC TOGETHER Class – (new-born – age-5) – 45-min class – 10 weeks = $200
We will challenge you to strive for the full potential of the musical gift that is in you!
Endorse checks to KEN WOLLBERG. (Generally just bring the check to the studio.)
kennethewollberg@gmail.com / SIviolin.com / 618-579-9128